Before the battle begins:
There are certain conditions that must be met before Adobis will allow you to venture into Zakum's Altar. The following is a list of necessary preparations.
1) Complete the 3 Zakum Quests. They must be done before you are allowed into the Altar.
2) Have at least one "Eye of Fire" in your possession. They are given by the Zakum quests.
3) Have at least 2000 HP after wearing your equipment, but before receiving Hyper Body.
4) Have at least 500 Cheeses.
The following is a list of recommended precautions.
1) MapleStory graphics is set to LOW.
2) Exit all other programs besides MapleStory, such as Media Players, AntiVirus, etc ...
3) Defragment your Hard Drive the night before your run.
The Arms
The first part of the battle is the arms. These are killed first and in a certain order:
-8th
-6th
-7th (CB PARTY ONLY!)
-4th
-2nd (All parties move to other side after this arm dies)
-3rd
-1st
The 5th arm is the LAST ARM to be killed. It does NO damage. This is break time before the tough part begins.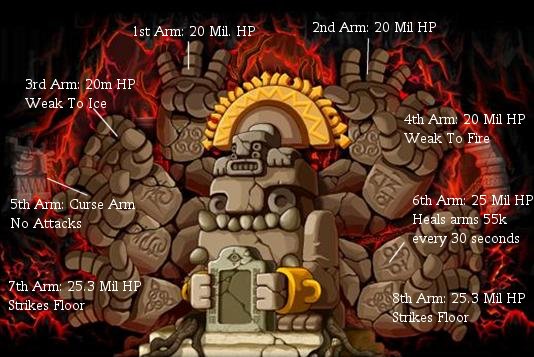 First Body: HP/MP: 66,000,000/ 30,000
Second Body: HP/MP: 88,000,000/ 35,000
Third Body: HP/MP: 110,000,000/ 40,000
Totaling up his 8 arms and 3 bodies, Zakum has a TOTAL of 482.1 Million HP.
Some tips:
Zakum with Vista:
- Change your graphics after the death of each body.
Example: You're in 'low' > when you see the 1st body appear you change it to 'normal',
when you see the 2nd body appear you change it to 'low',
when you see the 3rd body appear you change it to 'normal'.
-The most important tip to surviving Zakum is to not rely on your Priest. Your Priest is in your party to help you in the event that you lag and cannot pot. Otherwise your primary healing will be coming from potions.
-Arms:
Zakum will be summoned and the entire expedition will be located at the bottom right. When both bottom right arms are killed, the buyer party will move to the bottom left corner and stay there for the rest of the battle. While the arms are alive, the body does no touch damage, so it is safe to walk across the middle of the map, but remember the arms still hurt you for about 2400 damage if you touch them. There are also teleporters at the top of each side that take you across the map.
Arms have various attacks. Physical and magic attacks do up to 2000 damage. Poison clouds do 800 damage. Touching the arms does about 2400 damage. The third arm down on the left side also causes status effects (Seal, Curse, Weaken, Blind).
-Body:
All buyers will hug the left wall. Touching the body results in anywhere between 6000 to 11000 damage, so you don't want to get anywhere close to Zakum during the body stages. It has 3 primary attacks.
1) Lightning Strike - Does a maximum of 3200 damage.
2) Falling boulders - Does 2700 to 2800 to all players hit.
3) Apocalypse - Reduces your HP and MP to 1.